FAQ
Please browse our frequently asked questions (FAQs), and feel free to contact us if your question is not answered here. We are always here to help!
GENERAL FAQ
Why choose PCW?
There are many options for boarding that one can choose from and since dogs are wonderful they will adapt. However, I have seen dogs return home, after kennel stays, stressed due to the isolation, constant loud barking and overall, lack of stimulation. Staff listed with the online large companies are here today and gone tomorrow and/or NOT professionally trained. If you want your dog to have their own vacation while you are on yours, choose PCW. Your dog will exercise, socialize, learn, play, nap everyday; treats and love are included.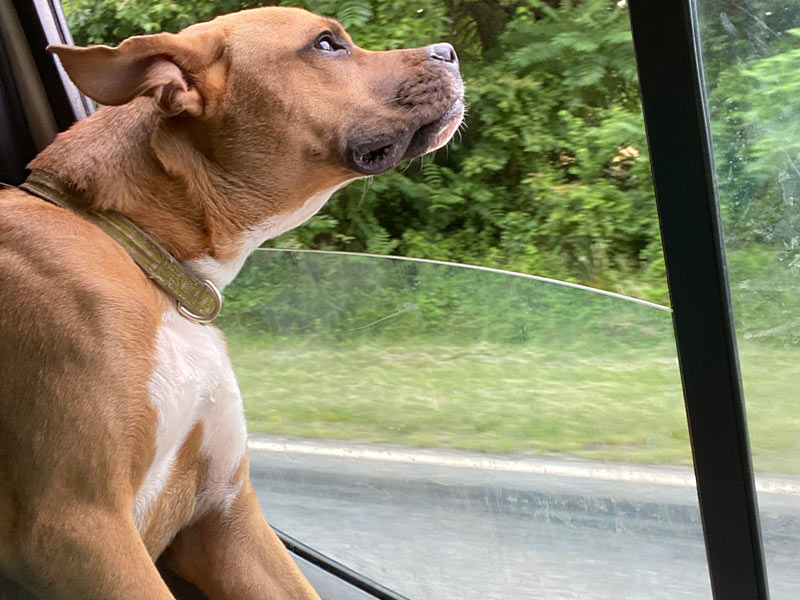 How much advance notice do I need to make a reservation?
While we appreciate as much advance notice as possible, we will consider last minute requests for all existing clients. A small fee may apply for last minute schedules that fall on a holiday. Spaces are limited, using the app, book as early as possible.
How will I know if my reservation is confirmed or completed?
Reservations are not final until the client receives an email confirmation.. We usually send confirmation within 24 hours. We also send a reminder of the dates a few days prior to your trip.
Do you offer a discount to the military?
Yes, we do offer a 10% discount for active military.
How/when do I pay for services?
All services can be paid for online with any major credit or debit card. Services should be paid by the end of the day when services are provided. We also accept cash and checks, Venmo, PayPal. A 50% deposit may be required.
Do you charge extra during the holidays?
There is a Holiday Fee of $10/day (charged on the day of holiday only).
Do I need to provide a key to my house for daycare hikes?
For reliable service with the least liability, it is recommended that all hiking clients obtain and utilize a keyless entry system or key storage lockbox to hold a key for your residence.
Do you administer insulin and other medications?
Yes, we are able to administer medications. We do not administer IV fluids. If needed, we are able to transport your pet to the Vet while in our care.
Which vaccinations are required?
States require Rabies vaccination on all dogs. Your pet must be current with vaccinations according to your veterinarian's protocol. We strongly recommend that your pet is vaccinated for Canine Influenza and Bordetella. If you have any questions regarding our policy, please give us a call before and we'll be glad to discuss it with you.
Suggested vaccinations for dogs:
Rabies | DHLP | Parvo | Bordetella | Canine Influenza | Healthy Fecal Exam
Do you separate small and large dogs at PCW?
At PCW, unless necessary, we prefer not to. It's important for dogs to be comfortable with all sized dogs. With time, all sized dogs are cognizant of each other. Smaller sized dogs can be tougher than many large dogs LOL.
---
DAYCARE HIKES
How much exercise does my dog need?
Just like humans, all dogs, big or small, need exercise. Based on age and energy, exercise requirements will vary.
Do you provide transport?
Yes transport is included for our regular daycare members, Weekend transport is not available. If there is an emergency, a small fee may apply.
How does daycare transport work?
In our a/c Ford Transit van, we pick up and drop off dog(s). Our route starts in Rockville, MD and ends in Poolesville. MD. You can see our route map here. Your pick up time will vary based on the other attending hikers locations. Daycare transport is included with price.
My dog is overweight, is hiking too much for them?
Sadly, obesity is a problem for dogs and humans in today's society. Over the years, the hikes, along with food management and veterinarians' advice, have helped many dogs lose weight.
My dog has never been off leash or my dog is used to being off-leash. Can they join the hikes?
All dogs have to go through an evaluation, where we will discuss and observe your dog's behavior in a large, outdoor, enclosed location. Although you may not have let your dog off leash, it does not mean they will fail. Dogs are natural followers and if started early, their reliability off leash will grow with them.
My dog is shy and hasn't interacted very much with other dogs. Is dog daycare right for her?
Without an evaluation, it would be unfair to make that decision. I have had success through the years helping shy, anxious, fearful dogs relieve their anxieties and socialize with dogs.
My dog is older, but I would like him to have the opportunity to play. Can PCW accommodate older, less active dogs?
Absolutely, our seniors enjoy the hikes as much as our younger pups. They hike at their own pace while staying with the group. The environmental stimulation they experience thru their super nose sniffing skills, is huge for any dog.
Does PCW offer an enclosed area?
At this time, we are only providing off leash hikes.
Are daycare hikes safe?
At PCW all dogs are off leash, while safety and prevention are priorities, like any daycare scuffles can occur but we are diligent at monitoring dog behavior at all times.
What happens if my dog gets lost?
All PCW attendees require an evaluation to determine hike eligibility. All first time hikers are provided with Garmin Astro 430 GPS collars which allow us to track your dog in the event they go rogue. Clients can provide their own trackers. After 15 years, only a GPS live tracking collar has worked the best, in the woods. A one-time fee for tracker for the use of a tracker on all new clients is $25.
What happens if my dog gets hurt?
We are certified in pet first aid. Any injury will be tended to and treated accordingly. We will notify parents and determine the best plan for the dog together.
Will daycare ruin my house training efforts?
Just the opposite! Our daycare will enhance your house training. Being outdoors, in nature, will reinforce your dog's potty preference.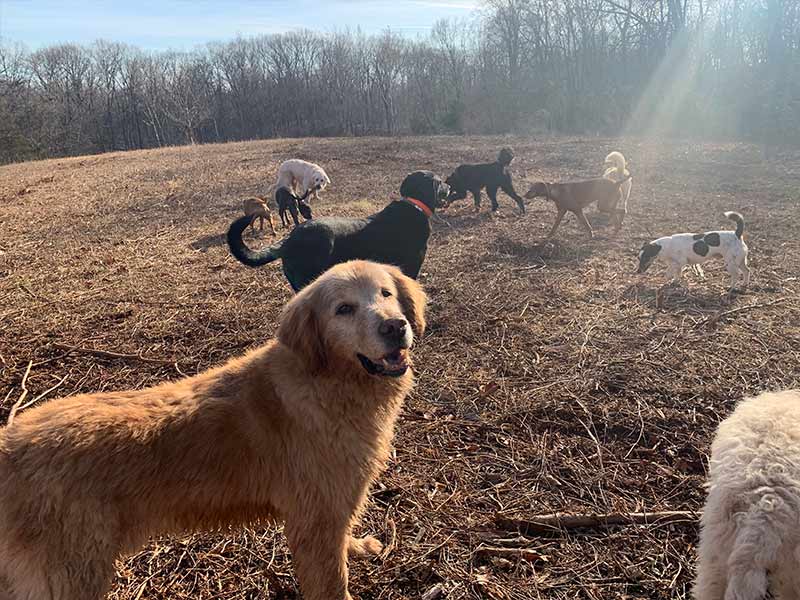 ---
TRAINING
Is my dog too young or old to learn new behaviors?
Dogs continue to learn throughout their lives. Most problem behaviors can be managed and/or stopped especially, if intervention is early.
When is a good time to start training my puppy?
Pups can learn as early as 2.5 months, at their own pace with different goals.
Do you use positive reinforcement and treats?
Yes, positive reinforcement along with treats, play, love and verbal awards.
Are treats a bribe for my dog?
No, treats have been proven to reinforce behaviors when used properly. With time treats can be phased out and replaced with play, physical, or verbal rewards.
Do you use prongs or e collars?
NO, prong or e collars are not used at PCW. While they work and solve a problem swiftly, it does not deal with the root of the problem and they hurt. Try an e-collar or prong on your neck and decide for yourself.
Unclear if your dog is just frustrated or truly aggressive? Not sure if it's a big enough problem to schedule an appointment?
Please contact us and we'd be happy to advise you – intervening early often makes behavior modification much more effective.
---
BOARDING
What should I pack for my dog?
Dogs do best when kept on their usual food. We recommend packing extra food in case of sudden travel changes. All pets are fed breakfast and dinner, lunch if necessary. We have extra feeding bowls, toys, beds, leashes, and blankets.
Can we bring bedding or toys from home?
We provide plenty of beds to choose from and use our own bowls. If you want to bring their own bed and toys, please be aware, we will do our best, we can not guarantee beds or toys will survive the visit.
Do you offer boarding and daycare for unaltered pets?
We evaluate on a case-by-case basis for boarding and daycare, based on possible overlap of multiple unaltered pet groups.
Do dogs have access to water all day?
Water is refreshed every day, throughout the day.
What happens if I have an emergency and am unable to pick up my dog before closing time?
Late pickups are possible, contact us for more details, $5/hour late fee, after 9pm dog will spend another night. Promise they will not mind.